There has never been an easier way to give.
Imagine the sense of relief a newly exited survivor feels when provided with safe lodging and a new cell phone so her traffickers can't reach her. Can you picture the joy on a survivor's face when she is able to put gas in her car to go to work or buy groceries?
When you purchase any of the items below, you're not just helping a survivor stay safe or get to work, you're building her self-esteem and her sense of independence.  You're paving her road to self-sufficiency.
Donate
Trauma Therapy sessions – $70 – $300
Gas card – $20
Grocery card – $40
Vet services for therapy animals – $50
Emergency Lodging – $50-$350
A month of cell phone service – $60
SHOP AND SUPPORT
$10 Monster Crayon Boxes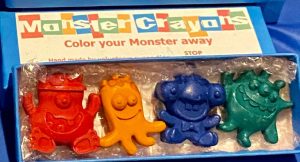 Many survivors refer to their trafficker as their "Monster" but thanks to the efforts of a volunteer who solicited for donations of broken crayons from restaurants, melted them down and molded them into these adorable monster crayons, everyone has the opportunity to "color your monster away."  Whether you're 5 or 50, these crayons make a great gift!
Make a general donation in honor of a Loved One in support of Survivors at https://stophumantraffickingmo.com/donate.